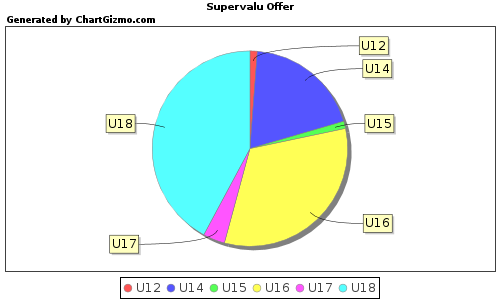 SuperValu have a nice promotion running at the moment called Family Days Out. They've partnered with 83 visitor attractions around the country who are all allowing a child to go free with a paying adult. Given that we're all being encouraged to holiday at home this year, it's nice to see all these attractions involved and helping families save some money.
The local SuperValu in Wicklow had all the brochures placed prominently inside the door of the shop and there was no in-store spend required to avail of the offer. Thumbs up to that.
When I saw the "take the Kids free", I was naturally curious to see what the definition of a child was. Could it be that the seemingly great offer would be very limited to the really young children?
Thankfullly, no. The vast majority of attractions (42%) considered children to be 18 years and under. The remaining figures were:
Under 17 (4%), Under 16 (33%), Under 14 (19%). One attraction had an Under 15 policy with one remaining attraction having an Under 12 policy. That attraction? Not hard to guess based on the title of this post, but it is Croke Park and their Museum and Stadium Tour.
The organisation supported with taxpayer funding to the tune of a QUARTER OF A BILLION EURO since 1998, can't even see its way to joining in with the spirit of this promotion and upping the child age limit.
The organisation that didn't think it would be "fair" for U2 to pay the full cost of resurfacing the pitch after the U2 concert didn't think it fair to relax their rules even for the short duration of the SuperValu promotion.
Sure, it's great that there is at least some price break for parents. It looks really mean though when compared with all the other attractions. Very few of those would enjoy the same level of funding as the GAA does.
Very poor show by the GAA… Very poor indeed.
How does this post make you feel?